Just planted my new Edge. It's my first tank. I used some grey stones, one piece of white crystal, valisnera in the back and two other little plants up front.
[img]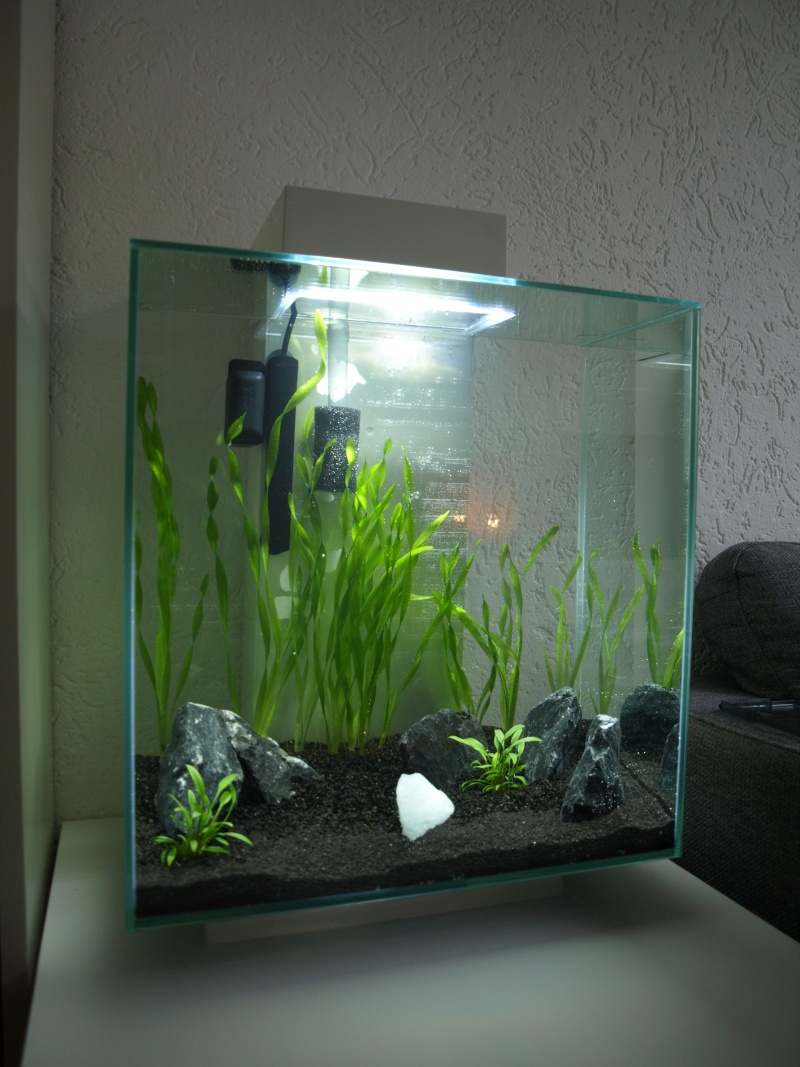 [/img]
[img]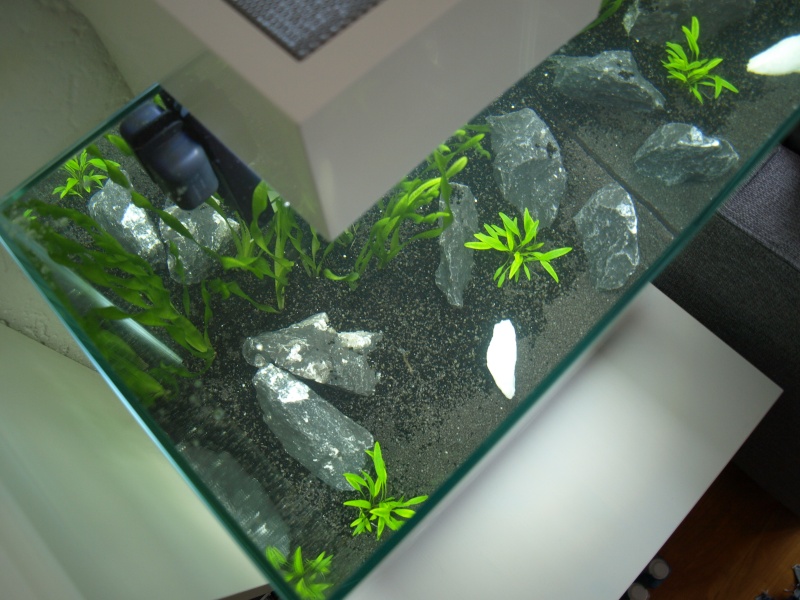 [/img]

baswencker

Neon Tetra




Posts

: 3


Join date

: 2012-12-29



Looking good :-)

Use the filter inlet tub extension pipe to suck water from the bottom of the tank rather than just the top half.

The small black sponge on the inlet pipe is a great idea since it does stop shrimp and small fish getting sucked up in to the filter. I clean my sponge once a month since it's pores can get a bit clogged.

I'm assuming you are Cycling the tank first before adding fish...good.

Looking forward to some more pics in a couple of months or so.

Regards,

Rick

rickO2

Angelfish




Posts

: 52


Join date

: 2011-07-01


Location

: Scotland



Hi Rick,
Thanks for your advice. When I started the tank for the first time I had the extended intake pipe in place, but it wouldn't suck up the water far enough to get the filter started. Maybe I should have waited a bit longer, I'll give it another try.
It's running for 10 days now. There seems to be a problem with my valisneria. It's leaves are turning rather dull / brownish one by one. Some of them have snapped. There don't seem to be any new leaves coming up yet. Should I be worried? Or is this normal for new plants during the first cycle?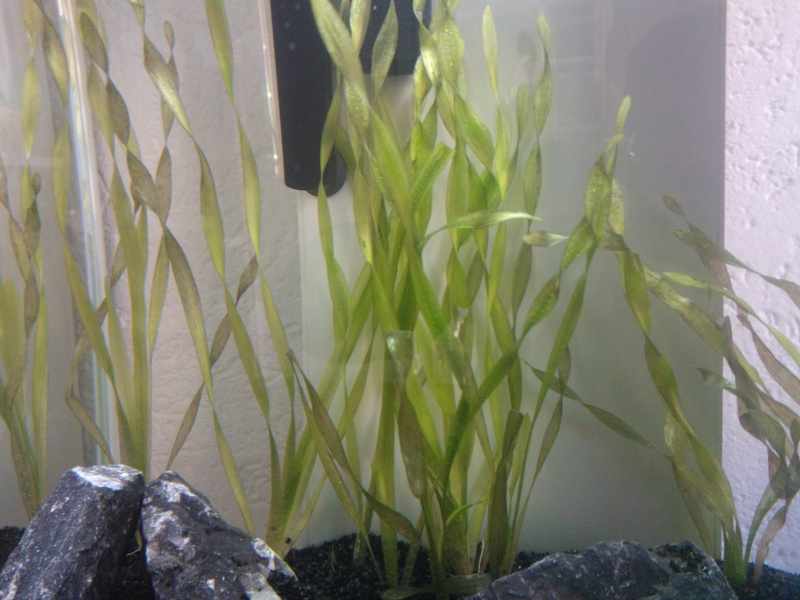 baswencker

Neon Tetra




Posts

: 3


Join date

: 2012-12-29



Hi baswencker,

That's interesting that the inlet pipe wouldn't suck strongly enough. I've only got the 23 Litre Edge so have no hands-on experience of your larger Edge. I wonder if the combination of the greater head of water and inlet sponge drastically reduces the flow rate...but you'd have thought Fluval would have catered for that in their 46L design? The filter unit does have a flow rate control on it...have you tried adjusting that? It might also be that you have some air trapped in the fiter unit, and if so you need to coax that air out. Also make sure none of the media (charcoal etc) is still in it's polythene packaging bag ...can't say for sure that the media did come in poly bags but I mention it just in case.

Most tank plants are bred partly subemerged in water, so when they get fully submeged into a fish tank for the first time some plants loose all their leaves...but they usually recover over a few months. The plants will need heating (just like the fish when they arrive :-)) ....and they will also need feeding and light (for 8-10 hrs a day, say). The plants can get food from the substrate and/or the chemicals produced by the crumbled fish flake (or ammonia) you are adding whilst Cycling...providing the beneficial bacteria is working. Or perhaps adding some plant food to the water might help.

I like your usage of tall plants in your tall Edge since most fish prefer to have handy hiding spots (otherwise the birds looking down can spot them) all over the tank. If the fish feel safe they will come out and play a lot more.

In my Edge I've got Strawberry Rasbora (12mm long) and Galaxy Rasbora (22mm long, colourful when backlight but a bit shy) plus Red Cherry Shrimp and Nerite Snails. With 20:20 hindsight I might have replaced the Rasboras with male Endlers Guppys (small, colourful and very active...but they may not like the small air opening of the Edge or it's limited six ...more research required).

Anyway, hope you get the flow rate problem sorted.

All for now,

Rick




rickO2

Angelfish




Posts

: 52


Join date

: 2011-07-01


Location

: Scotland



Followed Rick's advice today by inserting the extended water intake pipe. Suprisingly it didn't have any trouble to pump up the water this time, within seconds the filter was fully running again. It seems to have a big impact on the water circulation in the tank, all the small dirt immediately lifted from the bottom. I reckon this should improve the cycling.
Also removed some of the dead leaves from the valisneria. I'll have some more patience with it and if it doesn't improve I'll add some plant food.
Meanwhile I've been thinking about what fish to add once the tank is properly cycled. I'm think about this selection:
[img]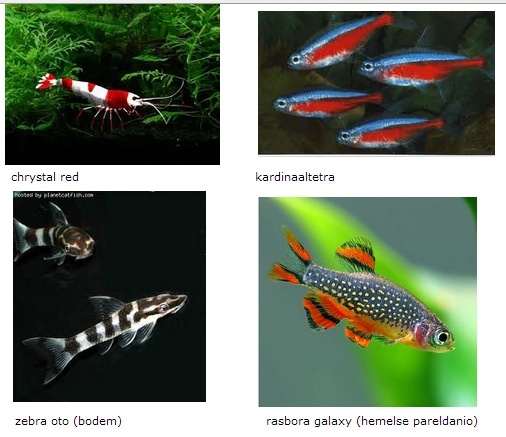 [/img]
Does anyone have experience with the zebra oto's?

baswencker

Neon Tetra




Posts

: 3


Join date

: 2012-12-29



Hi there!
Tank looks similar to an early iteration of the 23l I planted up! With the valisnera, I planted a load up and similar happened but when it took root properly it chained across the entire tank! Also my advice is buy some profito and easycarbo (fertiliser and liquid carbon) that will support your plants, check out my post "46L planted community tank" and see what that combination can support!!
Fish selection seems good, I have kept all except the Otis, I did attempt standard Otos once but it was a diseased batch that wiped out a load of my stocks across 3 tanks!

Good luck though, if in doubt keep it simple! It seems to be working for you - within a couple of years you'll be pushing the boundaries more!!!

Paul

pcsansbury

Guppy




Posts

: 7


Join date

: 2012-08-14



---
Permissions in this forum:
You
cannot
reply to topics in this forum